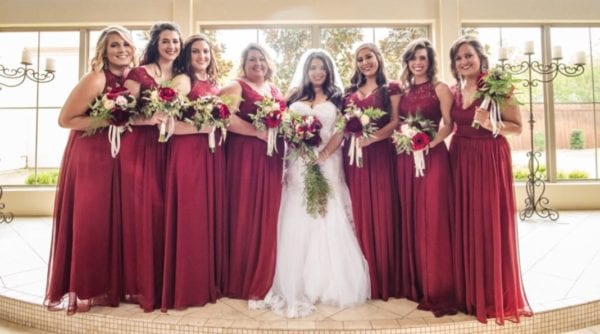 Petals and Pearls offers the following three wedding planning packages:
Total package prices are only quoted in person after we determine your needs.  After our consultation meeting, if you wish to use our services, we will prepare a service agreement that specifies our business relationship. Then, we begin to bring your vision to life and work hard to make your wedding dreams come true!
Before You Say I Do Package
This planning package includes full, onsite day-of services. This is a great option for the bride seeking hands on direction and assistance in the beginning of the planning journey, but who is also comfortable taking the lead and handling most details on her own. If directed, we will attend key vendor meetings on an hourly basis.
Services offered with this package include:
Person-to-person consultation with questionnaire and vision review.
Complimentary planning package including tips on creating a budget, wedding timeline, guests list, vendor list, helpful checklist and more.
Two planning meetings. (1st initial consultation and final walk-through 2 weeks prior to wedding day.)
Wedding Day

Eight hours onsite management service on your wedding day
Check-in and manage wedding vendors per your instructions –Petals and Pearls Unique Designs will be available in person and by telephone during the entire wedding day to assist vendors with any problems or questions.
Oversee final decorating and set up at ceremony and reception sites (Can include rearrangement of flowers, bows, and décor from ceremony to reception area.)
Organize and distribute all personal flowers to wedding party, family members and special guests (If we are your preferred florist for your wedding ONLY.)
Assist wedding party, family members, and guests as needed on wedding day
Emergency kit on hand for unexpected mishaps
Facilitate the wedding ceremony (Cue wedding party for procession as directed by the bride.)
Check for any items necessary to properly conduct the ceremony
Oversee ushers and guest book attendants
Assist with pre and post-ceremony photo sessions
Make sure that all members of the wedding party are looking picture perfect
Properly line up processional and cue musicians
Set up and break down table numbers/names, place cards, favors, toasting glasses and serving set per your instructions
Coordinate entertainment and all announcements/events during reception (Grand entrance , dining, first dance, toast, cake cutting , garter toss, bouquet toss, exit of bridal couple)
Ensure payment of vendor tips and balances (Distribute payment envelopes to vendors if applicable)
Oversee the return of personal or rented items as agreed upon in advance to their owners.
Greet guests and advise on escort procedures
Onsite troubleshooter
Unlimited phone calls and emails.
Six planning hours for vendor contract review, preparation of wedding day schedules, rehearsal handouts, etc.
Confirm vendors prior to wedding day.
Direct the reception as planned by the bride.
Two staff members on the wedding day.
Pre and post wedding tasks as agreed upon with Petals and Pearls Unique Designs' staff and client.
Relax and Unwind Package
If you are a bride who has planned your entire wedding ceremony and reception, have made or purchased all of your decorations, but just need someone to add that special touch and decorate your venue and carry out your wishes, then this is the package for you! If you need someone to facilitate and carry out your wishes and take the stress of the day away from you and your wedding party and families, we will get the job done!
This package includes:
Decorating of ceremony and reception areas on your wedding day with the decorations provided by the bride and groom.
Set up cake table, registry table and gift table.
Set up and decorate wedding party, bride and groom and/or sweetheart tables according to the wishes of the bride and groom.
Put all table linens on tables in reception area.
Make certain that everything is set up and perfect according to bride's wishes before the ceremony begins.
Light candles
Post wedding tasks agreed upon by Petals and Pearls Unique Designs and client.
Boutonnieres and Bouquets
This is a floral package for your wedding ceremony and/or reception or rehearsal dinner. A complimentary consultation is scheduled to plan and decide on the flower package and pricing that fits your budget and the dreams and desires of the bride and groom.
This package includes:
Flowers for bride and groom
Flowers for wedding party
Flowers for families
Flowers for officiate and ushers
Flowers for flower girl, junior bridesmaids and ring bearer
Flowers for ceremony
Flowers for reception
Throw-a-way bouquet for Bride (If she chooses to keep wedding bouquet as a keepsake)
All types of packages are available and we will customize a package to fit your needs and to help you to stay within your flower budget. Depending on seasons and availability of chosen flowers, prices may vary.
Remember, typically brides and grooms need to build in and allow 8-10% of the wedding/reception budget for flowers because they are the main focal point of a wedding and reception and bring beauty and life to any wedding!
Wedding Day-Of Coordination
A Wedding Day Coordinator is a necessity so that everyone, especially the bride, can relax and enjoy the most precious moments you've been working toward. A wedding day has so many details and tasks to be covered. This can be stressful to the bride, bridal party, friends and family, if they are given the enormous responsibility of taking care of these things. This is just one of the many reasons that a wedding coordinator is the best investment that you can make towards a perfect wedding day!
Also known as Month of Coordination, this service begins 4-6 weeks prior to your wedding date.  At the 4-month mark (or as soon as you book), we can give you vendor recommendations for anything you've not secured yet. With our wedding checklist in hand, you'll be ready to complete your final tasks. Three weeks prior to your wedding day, we will regroup for a detail planning meeting and final walk through. During this meeting, we put together your wedding timeline, ceremony logistics and more. In the final month, we fully take over vendor communication and tie up all loose ends. We then conduct your rehearsal and wedding day from start to finish, with emergency kit in hand.